Gardasoft's revolutionary triniti Intelligent Lighting System provides a new way to expertly control machine vision lighting by combining Gardasoft functionality with GigE Vision compatibility. Through a unique mixture of enhanced light control using Gardasoft's triniti LED Controllers (TR-RC Series), LED technology, and industry-leading software, this powerful enabling technology makes it easy for even non-expert users to use expert machine vision lighting techniques, all within a "plug-and-play" environment.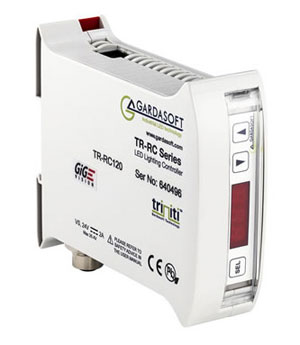 Gardasoft's triniti starts by simplifying LED lighting control through seamless integration into existing networks and enabling more complex control techniques. The system makes it possible to view the lighting source, exposure time, and timing onscreen, which in turn enables easier diagnostics and configuration. To simplify connectivity and access to operational data, triniti chips are mounted into partner manufacturer lights or cabling, making it possible to control them using the TR-RC controller and software, thereby eliminating hand-coding.

Flexible Functionality

This collaborative approach ensures that when one variable is adjusted, the others will follow suit, so that lighting performance remains optimal. In so doing, triniti delivers equally optimal functionality, with better and more expert control, operational intelligence, and, overall, more effective integration of lighting systems. The result is then consistent, reliable, and lower cost brightness for non-expert users, with the additional benefits of rapid ROI and an extended life cycle.

Gardasoft triniti Intelligent Lighting System simplifies the creation, configuration, and commission of LED machine vision lighting systems, providing stable, long-term brightness and greater flexibility for advanced machine vision lighting techniques in virtually any "plug-and-play" environment.