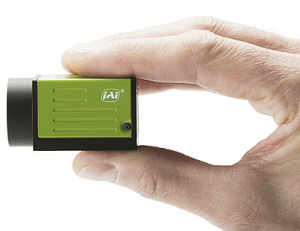 JAI recently unveiled the Go Series, its latest line of high performance machine vision cameras. This versatile device family includes six cutting-edge area scan cameras with complementary functions and a wide range of suitable applications. Notably, the Go Series delivers advanced performance at an extremely attractive price point. It's not uncommon to see similar devices from competing manufacturers listed at twice the price of Go Series entrants.
JAI Go Series: The Perfect Fit at the Perfect Price
Calling the JAI Go Series "the perfect fit at the perfect price" sounds like bluster, but the manufacturer - and early-adopting customers - couldn't be more enthusiastic about this camera family's specifications and capabilities. At each camera's core, the Go Series boasts a 5 megapixel CMOS imager that sits at the heart of JAI's high performance - and higher-priced - Spark SP-5000. Go devices are far smaller, however, opening up a range of sensitive, space-limited applications that larger cameras can't manage.

The Go Series' key specifications include:
A 5 megapixel CMOS sensor that measures 1"
Housing dimensions of 29 x 29 x 41.5 mm
Housing weight of 46 grams
Full resolution speed of 22 fps to 107 fps, depending on the model
Pixels at 5 square micrometers
Monochrome (5000M-PGE, 5000M-PMCL, 5000M-USB) or color (5000C-PGE, 5000C-PMCL, 5000C-USB) image capture
Go Series cameras are also rated to withstand vibrations measuring up to 10G and shocks measuring 80G, making them particularly valuable in industrial settings. These unique attributes make the Go Series ideal for an impressive range of sensitive and high-value applications. The Go Series boasts a 5 megapixel CMOS imager that sits at the heart of JAI's high performance Spark SP-5000.
Applications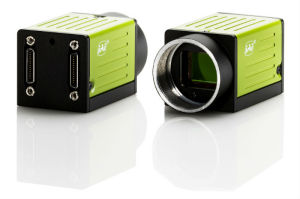 JAI boasts that its machine vision cameras, including devices from the Go Series, can be used in "a wide range of systems for digital pathology, medical microscopy, blood & DNA analysis, ophthalmology, and many other medical imaging applications." With incredible exposure control from 10 microseconds to 8 seconds in increments of a single microsecond as well as 2X and 4X binning for superior sensitivity, Go Series devices are ideal for highly specific medical imaging applications in which accuracy and clarity are paramount.

In print production Go Series cameras' impressive exposure control and high shutter speeds make these devices ideal for high speed print inspection in labeling, packaging, branding and printing applications.

Thanks to their compact size, high shutter speeds and ease of integration into linked systems, JAI's Go Series devices exceed expectations in a wide range of manufacturing settings, including robotic assemblies and post-assembly inspection.

With a three-year warranty and rugged, shock-resistant housing that can withstand rough landings and bumpy rides, the Go Series is well suited for use in unmanned ground vehicles and aircraft, including vehicles and craft designed for exploring and surveying dangerous or space-constricted areas.

JAI's Go Series encompasses a versatile lineup of machine vision cameras with impressive capabilities. Whether you demand a compact device for a high-speed, multi-camera inspection line or require a sensitive, highly accurate machine for a medical imaging application, this family of devices delivers unmatched value at a very attractive price point. It's no wonder JAI brags that "equivalent cameras are twice the price."
Showcased at VISION 2014
The Go Series won't be the only high-performance machine vision family showcased at VISION 2014, but JAI clearly looks forward to showing it off. Anyone planning on attending VISION 2014 - held November 4 - 6 in Stuttgart, Germany - will be able to see the Go Series at Booth F52 in Hall 1. JAI's Sweep Series will also be featured at the company's booth. While these two affordable camera series are often billed as "entry level," they offer a suite of capabilities that make them anything but ordinary.
Explore our entire lineup of JAI Go Series machine vision cameras.