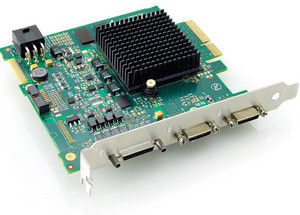 Dalsa's XTium CL PX4 is a powerful frame grabber that provides high-speed access to host memory for Camera Link-enabled machine vision cameras. Its half-length, single-slot solution is capable of supporting a wide range of line and area scan cameras. The XTium CL PX4 is compatible with the PCIe Gen 2.0 x4 platform as well as the PCIe Gen 1.0 platform, delivering respective transfer speeds of 1.7 GB/s and 850 MB/s. It eliminates the need for specialized chipsets and motherboards to achieve maximal bandwidth.
Like all Dalsa frame grabbers, the XTium CL PX4 comes with a complimentary run-time license for the Sapera Vision SDK suite, including Sapera Nitrous and Sapera Architect Plus. Sapera's tools provide system integrators with powerful, user-friendly graphical processing functionality in a non-programming design environment. This is particularly important for smaller-scale users that may lack in-house IT or programming teams, including boutique manufacturers and industrial design firms.

Additionally, the XTium CL PX4 excels in high-volume machine vision inspection applications, including multi-point quality control operations. With impressive data transfer rates and compatibility with a range of camera types, this frame grabber is also ideal for use in microscopy, precision manufacturing and inspection and other applications that demand rapid processing of high-resolution images.
Explore our entire lineup of Dalsa Frame Grabbers.