Much like "all that glitters is not gold," not all new technology is necessarily innovative. However, industrial camera manufacturer JAI is well-known for providing products that many in the industry would consider 'shiny.' Their new Sweep SW-2000M-CXP monochrome line scan camera, in particular, represents a high-quality line scan model with potentially revolutionary sensitivity and adaptability.

High Sensitivity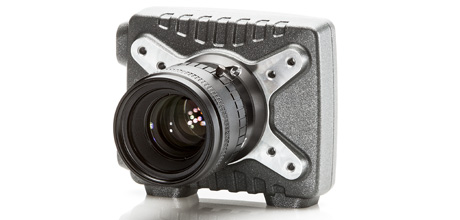 The Sweep SW-2000M-CXP starts from a custom CMOS sensor that fuses together high scan rates, image quality, and high sensitivity. Large pixels and high sensitivity specifically result in higher quality images by having lower scene lighting requirements than most conventional line scan cameras. This in turn translates into savings in both lighting and lens costs, as the larger pixels also raise the Sweep camera's tolerance for lens blur.

High Adaptability

This new line increases adaptability to vision inspection applications by offering two sensor operation modes: a higher dynamic range for high signal to noise levels and a responsive mode for greater brightness and contrast. While the latter is especially useful for limited lighting, both operate with scan rates of up to 80,000 lines per second and scalable 2048 pixel resolution. These rates translate into the maximum image quality and speed currently available among line scan cameras. The Sweep also includes the longer lengths and lower costs of the CoaXPress Interface that conveniently combines data, camera control, and power supply into a single cable.

Overall, this new line can address inspection needs in many fields, from electronics to raw materials and print inspection. The Sweep SW-2000M-CXP is also well-suited to applications in sports imaging, waste management, and web applications. Fundamentally, its fusion of high sensitivity and adaptability represent a true innovation in adapting to unique vision inspection needs.