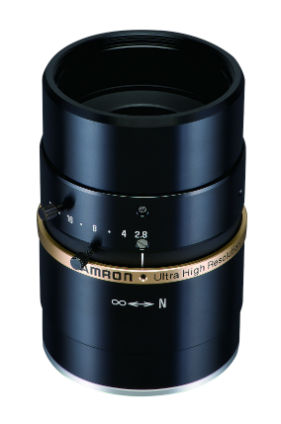 Tamron's release of seven interchangeable lenses demonstrates, as Apple's Steve Jobs once noted, that "Innovation distinguishes between a leader and a follower." These lenses push machine vision forward by meeting unique needs within the growing demand for higher resolution. As a powerful vision system lens option, the M23FM50 specifically combines ultra-high resolution with durability and versatility for unique vision system applications.

Ultra High Resolution

The M23FM50 C Mount lens starts with a foundation of a 50 millimeter fixed-focal length lens. Like this series' other lenses, it is designed for 2.5µm pitch size sensor cameras; unique to the series, the M23FM50 is designed to realize ultra-high resolution from the center to the edges of each image. In so doing, it relies upon an innovative iris shape and 6-blade iris design that maintains the same performance as 8 blades while improving overall performance, especially at smaller, more precise apertures.

High Durability & Versatility

The metal mount and components, alongside the overall mechanics, further strengthen this lens. Focus and iris lock screws specifically include three separate positions to meet unique needs. In addition, the body is designed to be highly adaptable and durable, with resistance to vibration and shock, and innovative focus rotation. This allows the M23FM50 to maintain performance over long term use.

The M23FM50 is designed to meet a specific subset of the growing demand for high quality lenses. Its unique fusion of ultra-high resolution with durability and flexibility, though, make it ideal for automated inspection, engineering devices, PCB production, and other precision industrial applications.