Finding the right machine vision lighting solution for your automated flaw detection processes is essential to ensure accuracy and quality inspections. For specular objects, the enhanced Advanced Illuminations DL 194 high brightness Diffuse Dome light offers a lot of power and flexibility.
Advanced Illuminations has increased the number of LEDs from 6 to 12 with the DL 194, effectively increasing brightness and allowing for an RGB or "all color" version. With the available color options of blue, green, red, infra-red, white and yellow, the DL 194's diffusing light minimizes glare for inspection of a wide variety of reflective materials.
The DL 194's rugged, lightweight construction and housing design make it well-adapted to demanding or hostile environments, including rapid inspections on mounted robotic arms. In fact, Advanced Illuminations has done their homework with the DL 194.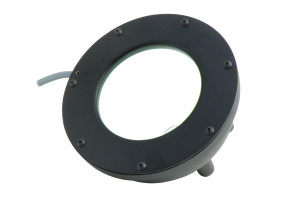 We all understand the problems that can occur due to incorrect lighting and misinformation that can affect processes further down the production line. Missed flaws can result in cost-overruns, delays, and quality assurance issues. The DL 194 is built with an understanding of these challenges, which makes it a good diffuse dome lighting option for semiconductor and electronics flaw detection as well as other critical machine vision inspection processes involving objects with reflective surfaces.