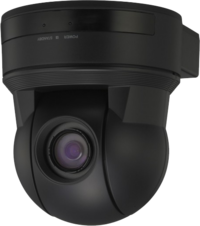 With the addition of the Sony EVI-H100S and H100V to their series of EVI series of PTZ cameras, Sony has given you yet another versatile option for your applications. Being a part of the PTZ family of products, these cameras offer you the ability to capture your image from a variety of directions or distances. Whether it's up, down, near or far, these cameras deliver a clear image.
Both the Sony EVI-H100S and EVI-H100V have 1/2.8 Exmor CMOS sensor giving you a super clear HD image. This focused image is what makes it perfect for a variety of applications where seeing high resolution images from a distance comes into play. From board rooms, lecture halls, and even distance learning applications, this camera allows for all of your teleconferencing needs to be met.

As mentioned, the camera comes in two versions. The EVI-H100S has an HD-SDi interface while the EVI-H100V has an DVI interface. Aside from that, all the other specifications and capabilities are the same!
Furthering their similarities is that much like the other models in the EVI line, this camera is ceiling mountable and has a 20X optical zoom capability. They also contain the standard RS-232C/RS-422 interface, as well as the VISCA protocol, making connectivity that much easier. Based on these features alone, it's safe to say you will certainly be seeing clearly with these cameras!
Do you have any questions? Wondering if this camera would work for your application? Please feel free to contact us by e-mail at info@phase1tech.com or via telephone: (888) 732-9880