Within your microscopy toolbox, the PixeLINK PL-B871 is an extremely sensitive microscope camera option. A board level area scan camera, this model is capable of high-resolution imaging in both bright and dark field applications. Its heightened sensitivity, when combined with PixeLINK's adaptive software, make the PL-B871 a handy tool for history, pathology, hematology, material science, and other life sciences.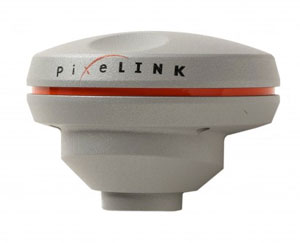 Strikingly sensitive

This camera's sensitivity originates in its powerful 1/2-type 1.45 megapixel CCD sensor, which relies on arrays of photosensitive semiconductor elements in concert with interline transfer sensors. In effect, the PL-B871's progressive scan sensor decreases exposure time while maintaining quality, with a maximum resolution of 1392 x 1040 at 10 frames per second. Add its low dark current, low smear, and anti-blooming capabilities, and the end result is low noise, vivid color reproduction, and overall excellent, professional image quality.

Effectively adaptive

The PL-B871 microscope camera is fundamentally designed for ease-of-use, with a USB 2 interface for connectivity and 8 or 12-bit digitization support for image quality. PixeLINK's µScope Standard microscope software also adapts to individual application needs through a variety of measuring and processing features. These include line profiling of intensity values, auto and semi-auto calibration for accuracy and speed, and various options for use and enhancement, as well as easy export to Microsoft® Excel.

For microscopy applications that require high sensitivity, adaptability, and imaging quality, the PL-B871 is a great right tool for the job. Next up, our PixeLINK Microscope Cameras Up-Close series examines the impressive performance of the PL-D6210 color CMOS microscope camera.