Throughout this series, we've seen how PixeLINK is forging microscope vision's future. The PixeLINK PL-D6210 microscope camera too shows how this leader in life sciences vision proves the old proverb that "You cannot forge a hammer from feather-pod fluff, nor spin spider-silk from precious copper." With this model, they have yet again fused high-quality components with stunning software to better your microscopy toolbox.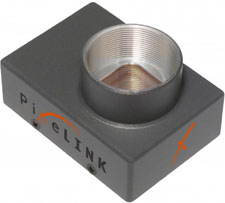 Masterful materials

For microscope cameras, a lightweight and easy-to-use design is essential. So, this model is compact and easy to install while maintaining a high frame rate and speedy throughput via CMOS and USB3 technology. With a 1/2-type 10.7 megapixel sensor, the PL-D6210 is designed to reach up to 18 frames per second at the full 3872 x 2768 resolution. The rolling shutter and 1.4 µm pixel pitch further ensure that this camera meets the need for advanced sensitivity and quality in life sciences applications.

Forging

To ensure the PL-D6210's professional imaging capabilities, PixeLINK provides the µScope Standard microscope software. As with other models in this innovative series, this software incorporates many additional features to ease capturing, measuring, and processing. These include line profiling for managing and exporting intensity values, auto and semi-auto calibration for enhanced accuracy and speed, and several options for image processing and alteration.

The design and software help refine the well-crafted PL- D6210 into an important microscope camera ideally suited for laboratory settings and other life sciences applications.

In our final profile, we zoom in on the PL-D672, an exceptionally powerful and speedy microscope camera with built-in image processing.