The Eagle has landed!

The new Sony FCB-ER8300 4K block camera provides an array of innovative features and capabilities that help it to take flight over the competition. Sony's new 4K option pushes the field of block cameras forward by delivering new levels of image quality and capabilities.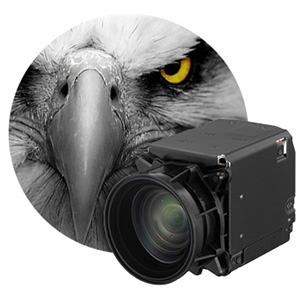 Helping you take flight

How does it provide such outstanding performance? Sony starts with a compact camera body, including the basic features of auto-focus and low power consumption. Then, they add true 4K resolution at 30 frames per second, along with a horizontal field of view of over 70 degrees and an 18x zoom with Clear Image Zoom for increased detail and ePTZ for navigating the stationary camera's viewable area. Next, Sony has also equipped this revolutionary block camera with the back-illuminated Exmor R™ 1/2.3-type CMOS sensor and BionZ image processor in order to provide consistently high image quality. Finally, the FCB-ER8330 incorporates various automatic features that work together to boost image quality, including Advanced Noise Reduction, Auto ICR, Visibility Enhancer, and programmable I/Os and Serial Communication.

In combining these many, ground-breaking features into a feature-rich yet compact form, Sony has created an ideal block camera for uses including videoconferencing, inspection purposes, medical applications, and high end surveillance and security.